Agricultural Hose Reel Irrigation Sprinkler Systems
Agricultural Hose Reel Irrigation Sprinkler Systems
Agricultural Hose Reel Irrigation Sprinkler Systems
[Agricultural Hose Reel Irrigation Sprinkler Systems Tags]
Agricultural
Reel Irrigation Sprinkler
[Agricultural Hose Reel Irrigation Sprinkler Systems Quick Detail]
Single sprinkler reel sprinkling machine is able to walk by itself by taking advantage of the kinetie energy of pressure water. It mainly consists of chassis, frame, roll, PE pipe, automatic speed reg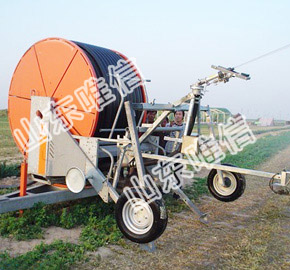 [Agricultural Hose Reel Irrigation Sprinkler Systems Introduction]
Introduction of Agricultural Hose Reel Irrigation Sprinkler Systems
Single sprinkler reel sprinkling machine is able to walk by itself by taking advantage of the kinetie energy of pressure water. It mainly consists of chassis, frame, roll, PE pipe, automatic speed regulation device, hydro-turbine driven system, gear box, sprinkler wagon and guiding device,etc.
Working principle: the pressure water will drive the rotation of the hydro-turbine and the reel plate through multi-step speed regulation mechanism to realize the even reversing of PE pipes and sprinkler wagon and at the same time, enter to the sprinkler through PE pipes to carry out normal sprinkling. With simple structure, high automation and adaptability, this product is easy to be operated and may relize multi-step speed regulation.It is the ideal choice for water saving sprinkling.
JP65/75/90/100 widely used in farm land sprinkling, vegetables and fruits sprinkling, graze sprinkling, sugarcane sprinkling, dust removing in electricity plants, dust removing in docks,etc.
Parameters of Agricultural Hose Reel Irrigation Sprinkler Systems
Desp.

JP85-300

Outlet Dimension(l*b*h)mm

3700*(1500-1800)*3050

PE pipe outlet Dia(mm)

85

PE pipe length(M)

300

Sprinkler Nozzle Car Track(mm)

1800-2500

Single Sprinkler Type

Working Pressure(Mpa)

0.42-1

Nozzle Dia(mm)

16-28

Flux(m3/h)

18-52

Sprinkling Width(m)

57-74

Rainfall(mm/h)

6-10

Nozzle Spraying Distance(m)

34-44

Multi-Sprinklers Type

Working Pressure(Mpa)

0.45-0.8

Nozzle Qty* Dia(mm)

13*(4.4-7.5)

Flux(m3/h)

11.4-38.3

Sprinkling Width(m)

31-34

Nozzle Spraying Distance(m)

3.0-4.5
Photos of Agricultural Hose Reel Irrigation Sprinkler Systems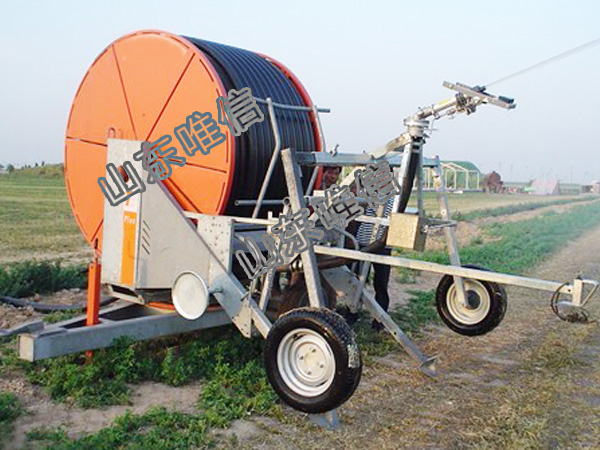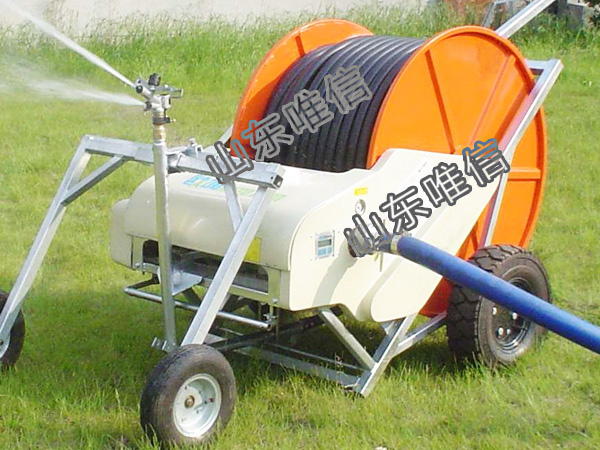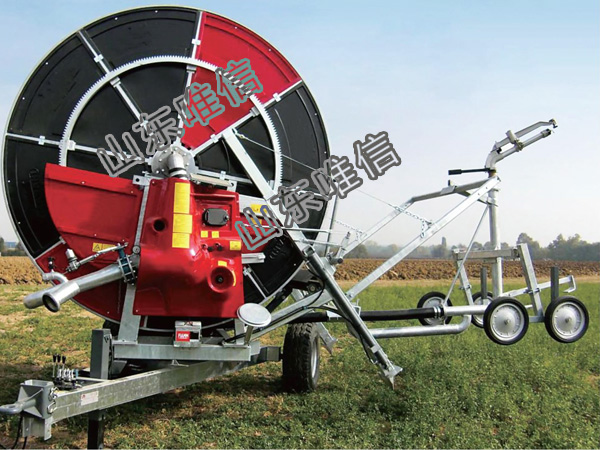 [Agricultural Hose Reel Irrigation Sprinkler Systems Related Products]
Industry and Products
Agriculture Machinery

Agriculture Drone

Garden Machinery

Water Conservancy