News Categories
Company News
Warm Congratulations Shandong Weixin Under Kate Robotics Passed Iso14001 Environmental Management System Certification
Warm Congratulations Shandong Weixin Under Kate Robotics Passed Iso14001 Environmental Management System Certification
Enterprise development, environmental protection first. Recently, after strict evaluation by the ISO14001 environmental management system expert group, the environmental management system of Shandong Carter Intelligent Robot Co., Ltd., a subsidiary of Shandong Weixin, fully complies with the requirements of the ISO14001: 2005 standard, and successfully obtained the ISO14001 environmental management system certification.
The ISO14001 environmental management system certification is a standard issued by the International Organization for Standardization. The certification is applicable to any organization, including enterprises, businesses and related government units. After certification, it can prove that the organization has reached the international level in environmental management, which is an improvement The level of environmental management is an important standard for effective integration with the international modern environmental management model.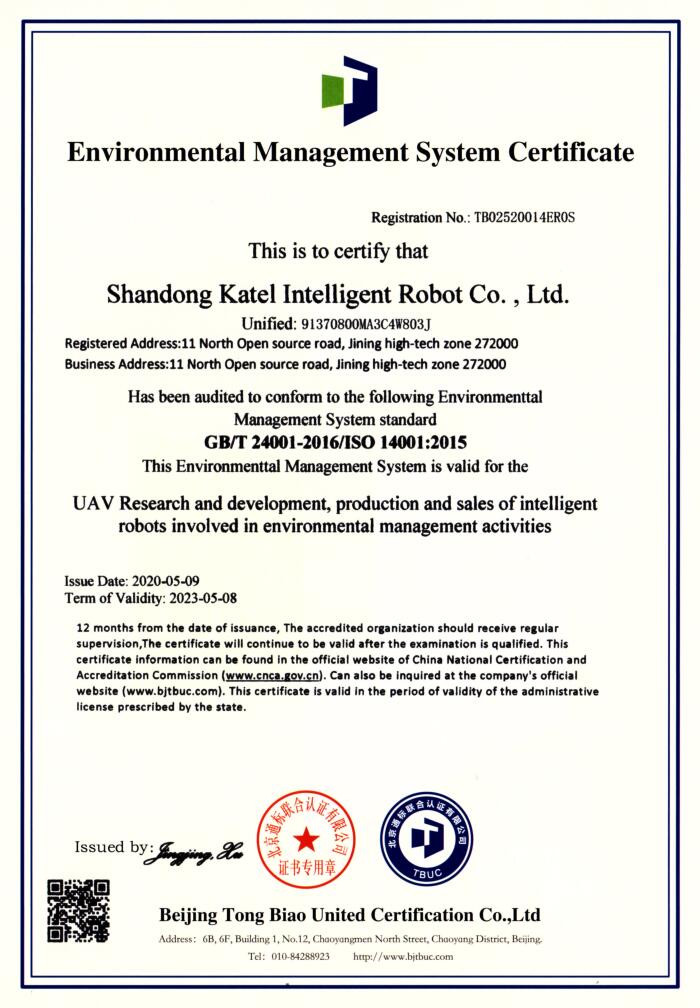 As a cross-industry and diversified technology-based and manufacturing-oriented enterprise, Shandong Weixin has been actively advocating green development and green manufacturing, bravely shouldering social responsibilities, striving to implement the concept of environmental protection development, and achieving the harmonization of high-quality development and ecological protection , The group has been awarded the honorary title of the executive vice president unit of the Shandong Provincial Eco-Environmental Enterprise Federation and the "most socially responsible enterprise" in the Shandong electronic information industry.
In recent years, Shandong Weixin has vigorously promoted intelligent manufacturing and invested in the establishment of Shandong Carter Intelligent Robot Co., Ltd. Since its establishment, it has adhered to the corporate philosophy of sustainable development, carefully implemented various environmental requirements, and successively developed and produced plant protection drones Killing drones, fire fighting drones, inspection drones, aerial drones, smoke drones, measuring drones, and industrial intelligent robots, anti-epidemic robots, smart home robots, fire fighting robots and other series High-tech intelligent products. Among them, the plant protection UAV products independently developed by the company have been selected into the list of agricultural machinery purchase subsidies in seven provinces and cities in Anhui, Jiangsu, Shandong, Guangxi, Guangdong, Chongqing, and Inner Mongolia, and were rated as Jining City 's famous brand products, and won the 2019 Jining City. The first prize in the final of the 7th Innovation and Entrepreneurship Contest has made positive contributions to the development of green agriculture and established a good reputation and credibility in the society.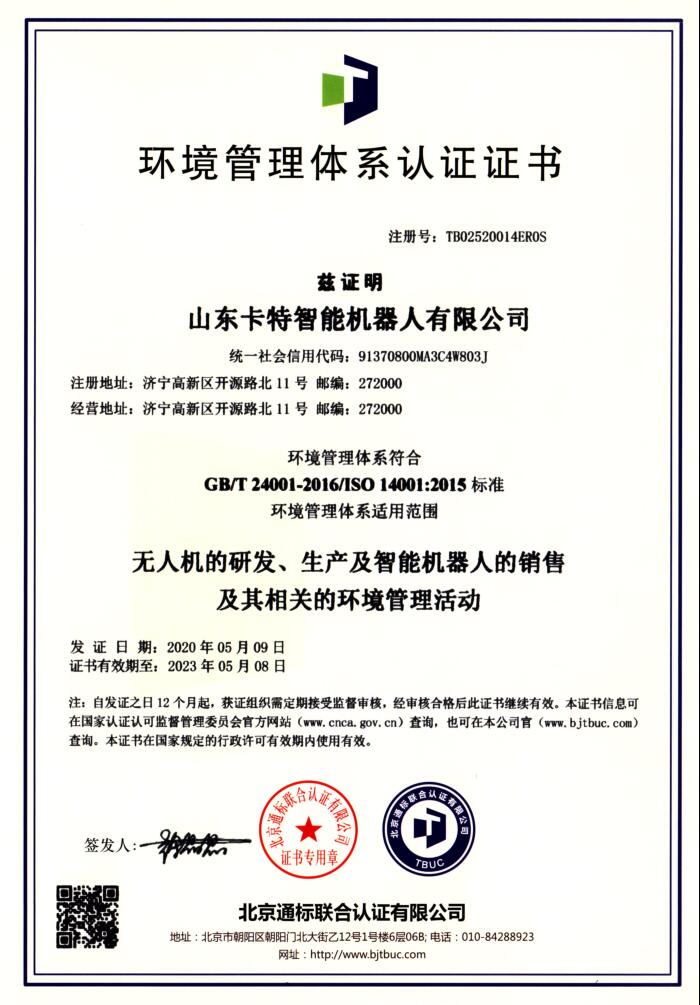 The successful passing of ISO14001 environmental management system certification by Carter Robotics this time is a high affirmation of our company's environmenta system management work. It will further promote the standardization, programmation and standardization of the company's environmental management. The popularity and reputation are of great significance. In the next step, our company will strictly implement the environmental management system and rules and regulations, and promote green production standards. With the focus on improving quality, energy saving and consumption reduction, cleaner production, pollution control, recycling and ecological protection, we will build a resource-saving, environmentally friendly, The green production system of ecological civilization contributes more power to ecological environmental protection!