News Categories
Technology Wiki
The Advantages And Maintenance Of The Ridging Film Mulching Machine
The Advantages And Maintenance Of The Ridging Film Mulching Machine
Good adaptability. It can be matched with small four-wheel tractors currently used in rural areas to form a two-row machine that is inexpensive and easily accepted by farmers. Secondly, it is suitable for transplanting various crops such as corn, cotton, sugar beet, tobacco, rapeseed, bare seedlings (soilless seedlings) and potted seedlings can be transplanted.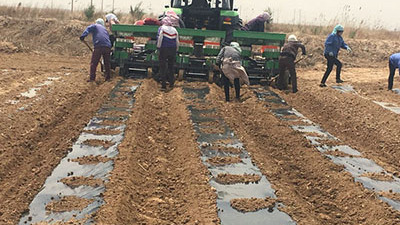 Inspect the belt for damage or impending breakage, and replace it immediately. The next step is to see if there are other impurities in the drum groove, and if so, clean it up in time. Here we can see if the gearing is working properly.
Contents of weekly maintenance of the ridging film mulching machine: Lubricate each node and adjusting rod of the rice transplanter with lubricating oil. Next, check whether the rice transplanter clutch is normal. Secondly, add lubricating oil to the pulley to ensure normal operation. Then, check that the screws or other attachments on the stevia transplanter are securely installed.
Annual maintenance content of the ridging film mulching machine: carry out a good cleaning of the ridge laminator, and do not allow other impurities to affect the work of the machine. Check the condition of essential accessories such as belts and grilles. Then add lube to the chain and some other nodes. Then, you need to choose a good placement location to avoid the machine from rusting.