News Categories
Industry Info
Maintenance Work Of Corn Combine Harvester Accessories
Maintenance Work Of Corn Combine Harvester Accessories
The rotating blades of the header auger (header auger) of the farm corn combine harvester are severely worn during the process of pushing the working object, and the blades may be partially deformed, damaged or desoldered. Deformation of the blade can be knocked to restore its original shape, and partially damaged blades can be repaired by panel welding. When the blade is disconnected from the circle, it should be re-welded.
The main content of the inspection and repair of the auger of the farm corn combine harvester includes:
① There should be a gap of 15-20 mm between the auger blades and the bottom of the header. It can be adjusted to 10-15 mm when harvesting low crops, and it can be adjusted to 20-30 mm when harvesting high-density crops to prevent the auger from clogging. It is achieved by adjusting the up and down positions of the boards on both sides of the header.
②The clearance between the squeegee and the bottom of the header should be adjusted according to the crop, and the minimum should not be less than 6 mm to prevent the bottom from being scratched and causing loss of grain. If the bottom is scratched, it should be repaired by welding in time. The header auger must not move axially.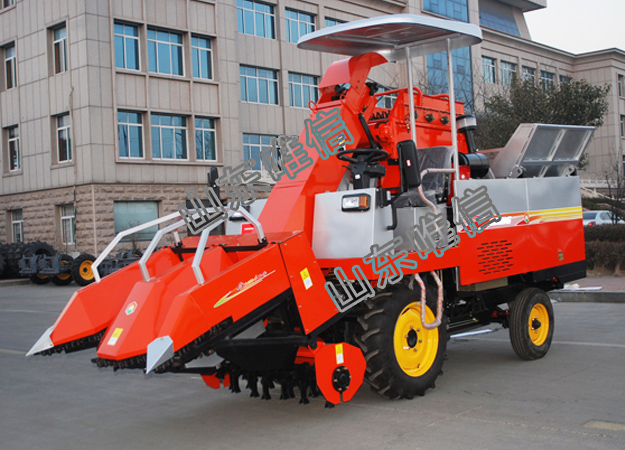 Nowadays, inclined conveyors mostly use chain rake conveyors, and the main check should be whether the tension of the chain rake is appropriate. The correct one is that 20-35 mm can be lifted from the middle of the chain harrow by hand. There are adjustment devices on both sides of the inclined conveyor to increase or decrease the wheelbase of the driving shaft and the driven shaft. If the adjusting nut is adjusted to the extreme position and the hand can still lift 40 mm from the middle of the chain harrow, the method of removing the chain link should be used to adjust its tightness. Too loose or too tight will cause poor feeding and easy blockage.